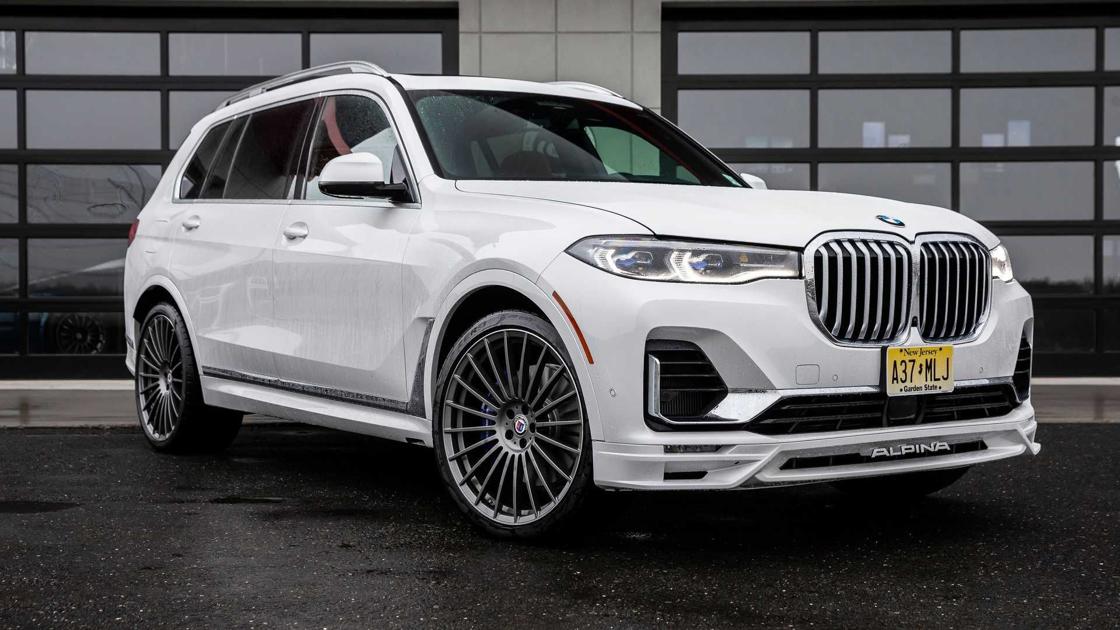 Just when you think you've test driven just about every performance oriented SUV produced today, along comes BMW and its new XB7 ALPINA full size, three-row SUV. Not a vehicle for the average consumer, this masterpiece weighs near three-tons, will go from zero to 60 in just four seconds, has an interior that is one of the best I've experienced and did I say it has 612-horses under the hood?
Yep… it does. And there's much more to brag about.
First, here's an ALPINA explanation. Similar to Mercedes-Benz AMG high performance designations, ALPINA certifies that these special BMWs receive luxurious and hand-crafted build additions as opposed to the M series, which is built for the track. The ALPINA models are hand-crafted by car experts, both the interiors and the powerful engines. Further, what makes an ALPINA BMW so special is its synergy of high performance, found in their 600 horsepower engines, and intricate, innovative design for everyday use.
Next, I've got to mention "the price." Most have already noticed the numbers above and that this baby is built for those who can afford the absolute best in luxury and performance. The total ALPINA version of this 7 Series SUV will cost you a bit more than $150K, so if you happen to be one of the lucky ones that purchased, say, 100 Bitcoins when they were $25 each, you are now a prospective buyer as Bitcoin closed over $60,000 each recently.
Under the hood sits the hand-built, 4.4-liter Twin Turbo V8 with a 10.5 to 1 compression that helps produce the 612-horsepower. These two turbochargers assist the induction along with variable valve control and a high-precision direct fuel injection setup to allow 590 lb. ft. of torque to work in flawless, powerful majesty. The driver has choices to make, too, thanks to BMW's Driving Dynamics Control that offers Comfort, Sport, and Sport + modes that combine with an 8-speed Sport Automatic transmission. The transmission allows fully automatic or sport and manual modes that feature ALPINA switch-tronic software with quick-shift paddle buttons behind the steering wheel. Add the performance notable M Sport differential in a 3.36 rear gear ratio and you've got a highway cruiser, great curvy road handler or a rocket ship accelerator at the touch of your right foot.
Out on the freeway, the XB7 is a real pleasure regardless of how smooth the highway is. Most road inconsistencies are either enhanced or eliminated based on a driver's road control choice ala comfort or sport modes. High tech innovation like electronic throttle control and engine cooling (map cooling), brake energy regeneration, ALPINA sport suspension with dynamic stability control all play roles in the final ride impression. Even in sport mode, a certain area of bumpy freeway where I test regularly with a co-driver friend still feels quite comfortable, which is not surprising for a vehicle that costs six figures.
The ride also features things happening that driver and passengers are unaware of, but important to the ultimate ALPINA experience. Things like brake fade compensation, start-off assistant (so you don't make a mistake with 612-horses available at the get go), brake drying, and brake stand-by features with dynamic traction control are all at work. The 4-wheel ventilated two-piece disc brakes with anti-lock braking system is one of the best braking units out there and when combined with cornering brake control and hill descent control serve up a more than capable performance braking system that can stop three-tons of BMW XB7 with authority.
The xDrive all-wheel-drive is a proven system that utilizes a double wishbone front suspension and a 2-axle self-leveling air suspension that eliminates the need for running boards for ease of entry and exit. Depending on either an off-road adventure or just parking at a restaurant, the driver can raise and lower the body depending on need. Further, the dynamic damper control with ALPINA software is most notable, as is adaptive drive and active roll stabilization, road preview and, most important, BMW's integral active rear-axle steering abilities. Yes, this is all high tech, but very important to XB7's handling prowess.
Inside, few competitors out there have done it better. The instrument panel is excellent and finished with an ALPINA production plate and hand-made leather dash with contrast stitching. The myrtle wood trim complements the layout while illuminated door-sills with ALPINA designation finishes off the initial entry experience. The spacious cargo area features velour carpeting and floor mats with ALPINA emblems.
Although low by modern day EPA standards, the XB7 delivers 15 city and 21 highway MPG, both pretty impressive for a 612-horsepower machine.
Standard is a Harman Kardon Surround Sound Audio System with 464-watt amplifier and 16 speakers while a SiriusXM with a one-year subscription is also noteworthy. However, our tester came with an audio/video upgrade where for $3,400 more you receive the world famous Bowers & Wilkins Diamond Surround Sound System with a total output of 1,400 Watts providing an amazing sound experience. Your dealer will explain fully. Add to this option a $2,200 video rear entertainment system for movies, music and even controls to place phone calls, navigation info and more control of the audio system. A panoramic sky lounge LED moon roof adds $750, while you'll need $2,600 for the 23-inch Pirelli tires on specific alloys. A special Merino leather upgrade costs $1,500 while a $550 trailer hitch and $800 five-zone climate control round out the options. With $995 destination, the final retail came in at $154,090.
Safety is top notch, including active driving assistant pro with extended traffic jam assistant, steering and lane keep assist, lane change assist, emergency stop assist, evasion aid, daytime pedestrian protection, front collision warning with city mitigation, and active blind spot detection. Our tester also features parking assistant plus with surround view cameras with 3-D view and active park distance control.
Important numbers include a wheelbase of 122.2 inches, 5,860 lb. curb weight, 21.9-gallon fuel cell, and from 48.6 to 90.4 cu. ft. of cargo space.
In summary, I'm one of those who didn't invest $2,500 in Bitcoin way back then, so there won't be an XB7 ALPINA sitting in my driveway following return of this tester. Still, thanks to BMW and for one full week, I was in high-performance, SUV heaven.