Gonzalo Santamaria of Currency Research suggests in this article that it's time to get ready for large-scale use cases. So let's see what's next for China's CBDC project
The global payments ecosystem has undergone tremendous transformation and modernisation over the past decade. Central bank digital currency (CBDC), however, may be increasingly poised as the next significant innovation to disrupt other payments instruments. Currently, more than 80% of central banks surveyed by the Bank for International Settlements are either exploring, researching and/or piloting a retail CBDC. 
A recent study issued by CitiBank offers a broader commercial perspective and views tokenization as the new digital form of currency, moving beyond the account-centred transactions of e-money that have been the hallmark of financial services to date. This tokenization will be seen across a variety of offerings, spanning CBDC, stablecoins, and cryptocurrencies (such as Bitcoin) and making use of the programmable capabilities of such products, today with >USD 2 trillion aggregate value in cryptos alone. 
Several smaller jurisdictions such as The Bahamas (Sand Dollar) and the Eastern Caribbean Central Bank (DCash) have already issued their own CBDC products, with specific reasoning and tailored strategies. On a larger scope are countries such as Sweden, which has long been studying and researching a digital e-krona based in part on the fast decline of cash usage in that jurisdiction. 
However, it's time to get ready for large-scale use cases. Ahead of the curve is the People's Bank of China (PBoC), the governing body whose intensive digital currency programme, Digital Currency Electronic Payment (DCEP), and its respective pilot have been recently heating up through large-scale trials. 
In a recent issue, Central Bank Payments News said that activities include cross-border testing of the digital yuan (e-CNY) by PBoC and the Hong Kong Monetary Authority to offer an additional safe and convenient means of cross-boundary payments to residents of HK and Mainland. The testing includes the e-CNYapp, system connectivity, and cross-boundary purchases to help promote interconnection of the Guangdong-HK-Macao Greater Bay Area. PBoC has also embarked on a creative new trial in Shenzhen, the site of their first public lottery test in October 2020, which saw them distributing red envelopes containing small sums of digital currency to the e-wallets of selected lottery winners. This time, however, China's central bank is calling on previous lottery participants in Shenzhen to top up their e-wallets with digital yuan to access discounts on purchases. Ten million yuan (USD 1.51 million) has been earmarked for discounts available at more than 500 participating retailers. 
Officials at PBoC stress there is no timetable available for the official launch of DCEP and that e-CNY remains 'under development and testing phases'. At the same time, the trials continue to expand, with six more regions added to the digital yuan pilot programme. Newer pilot tests are breaking from previous trials. For example, on Yongxing Island in Sansha city, PBoC is giving away 99 digital yuan (EUR12.70) for every 100-yuan purchase made at supermarkets, restaurants, and hotels.
Most recently, at the 4th Digital China Summit, PBoC along with major national commercial banks and tech giants showcased e-CNY use cases in dedicated booths. In addition to local ecommerce giant JD.com announcing its support of e-CNY for online shopping and the payment of suppliers' and employees' salaries, the electronics giant Huawei revealed a designer prototype to pay for staff-less hotel rooms with the digital currency. 
And to include overseas nationals in the mix, the state-owned Bank of China demonstrated a machine prototype, which can convert 16 foreign currencies into e-CNY. The idea is for returning nationals with valid passports to place foreign banknotes into the machine, which in turn will issue a physical e-CNY card based on the exchange rate. The card prototype (Figure 1) for foreign nationals features a small screen that displays the balance of the hardware wallet and can be used in retail shops that have an e-CNY payment terminal. It is reportedly being trialled and planned for real-world use during the next Winter Olympics, slated for February 2022 in Beijing.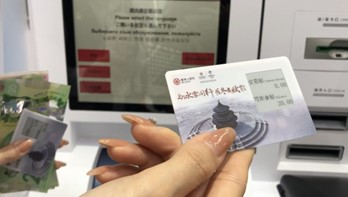 e-CNY Card Prototype
The competition to gain market share in the inevitable product roll-out is ramping up amongst issuers, including state-owned banks and third-party payment providers. WeChat Pay and Alipay have of course been key drivers in changing consumer behaviour and the adoption of digital payments, with USD 67 trillion worth of mobile transactions processed in China in 2020 – 400 times more than in the USA – and a combined active (monthly use base) of nearly 2 billion. 
Converting these massive private-sector payments over to CBDC will not happen simply through incentives and the regulator has been applying pressure on both tech-giant companies for some time now. It should come as no surprise that the aforementioned Summit also saw Ant Group and Tencent publicly demonstrating their e-CNY wallet services for the first time.
It remains unclear when the e-CNY will be officially launched, but with large events such as the Winter Olympics on the horizon, China likely intends to digitalise all payments (similarly to the London 2012 Summer Olympics). One thing is certain, China is well ahead of any other major economic powerhouse in the bid to be the first to the finish line. The broad government support and community participation in the trials, whether by ill or by will, is generating substantial levels of data and public awareness – leading to a massive head start for China.
this article is part of the Payment Methods Report 2021 – Latest Trends in Payment Preferences, a comprehensive overview of the payment methods in scope for 2021, as well as best practices for checkout optimisation and customer conversion by addressing digital transformation, security, and localisation.
About Gonzalo Santamaria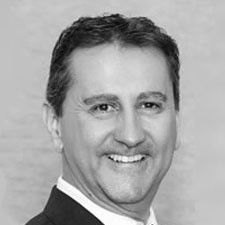 Gonzalo Santamaria currently leads the Payments stream for CR as VP and has forged his experience from 35 years in the currency and payment industries. He is an avid speaker and moderator of panel discussion at industry conferences and has held senior commercial roles leading international sales teams. 
About Currency Research

CR's mission as a knowledge-based services company is to inspire and progress industry dialogue and efficiency across cash and payments through core initiatives: Conferences, Consulting, Communication, and Community. CR is the leading global resource for central banks, the related supply chain and FMI including the monthly e-publication Central Bank Payment News and consulting services with a focus on strategy and policy. Currency Research is also the organiser of the Central Bank Payments Conference (CBPC), an event held on 8-10 November 2021 in Athens, Greece.