Bitcoin Miners Feed an Arms Race, Not a Commodity Boom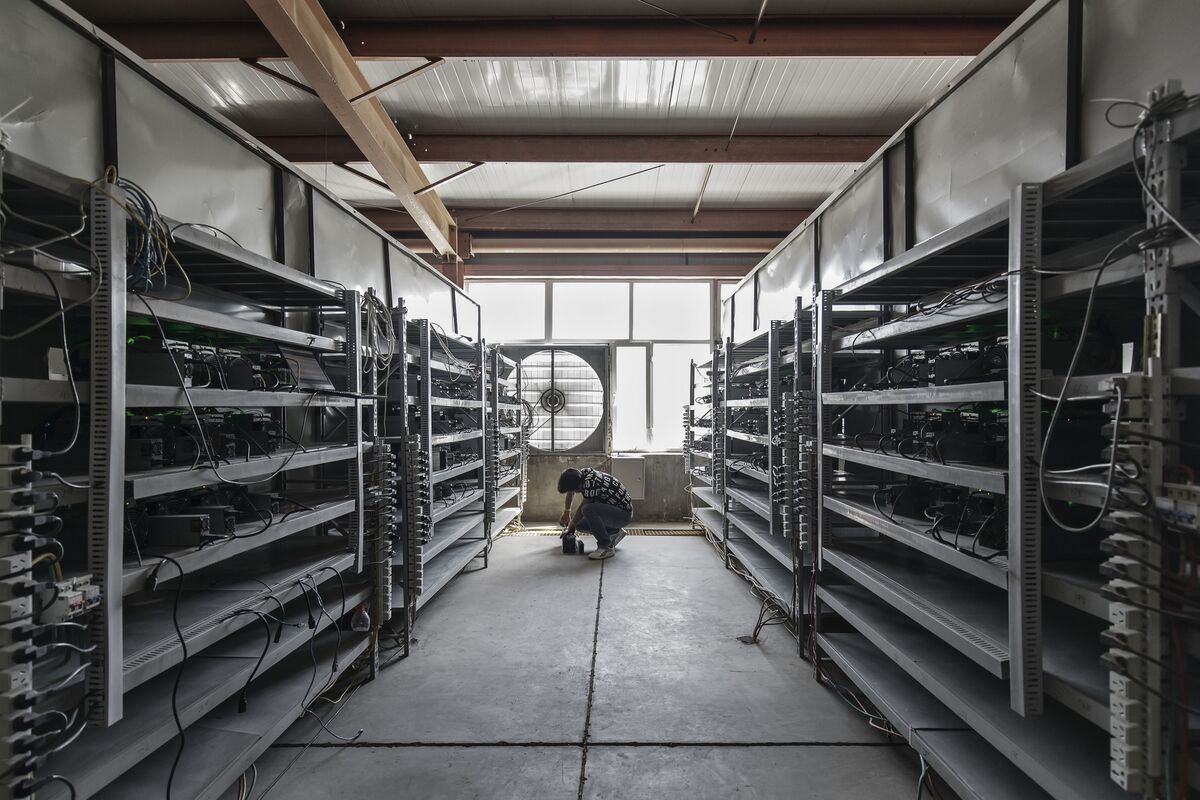 Bitmain Technologies Ltd.'s decision to stop selling Bitcoin mining machines amid a price drop highlights an oft-forgotten truth about the world's premier cryptocurrency: The rate of supply is fixed.
Whereas opening a new copper mine would yield more of the metal being extracted from the earth, and vice versa, the same cannot be said for the digital currency. Instead, Bitmain halting the availability of new mining rigs — servers that calculate the complicated numbers underpinning Bitcoin — is more akin to a cessation of arms sales.
The Beijing-based company suspended shipments for immediate delivery (it also makes mining machines as part of long-term contracts) to help existing customers get a better price as many rush to sell into the secondary market for used equipment, Bloomberg's Zheping Huang reported Wednesday.
This unusual move comes from a confluence of factors. Among them, the price of Bitcoin has dropped by 50% from its peak of more than $64,000 in April. Since miners get paid in Bitcoin, falling prices reduce the return on investment, a similar response to physical commodities. And while the rigs themselves are capital expenditure, and thus a sunk cost, operating them also requires significant electricity, a variable cost. At some point, it makes more sense to close than keep paying electricity bills.
For many miners, though, ceasing operations wasn't a financial decision. A renewed crackdown by Beijing, from mining to trading and payments, has sent a shudder through the sector.
Four years ago, regulators banned cryptocurrency exchanges from operating in China while also halting initial coin offerings — the release of new tokens used for fundraising. This time, the miners themselves are in the crosshairs. After direction from China's State Council last month, local governments set about cutting power to the massive server farms used to mine Bitcoin.
One result of this upheaval has been a 75% plunge in the price of machines in the secondary market. There's also been a big drop in the number of mines connected to the Bitcoin network, which can be estimated by tracking the hashrate that measures computing power deployed. This figure is down 39% from a peak in mid-May, according to data from Blockchain.com.
"We're seeing a lot of those miners moving out of China to other places," Zhao Changpeng, chief executive officer of crypto exchange Binance Holdings Ltd. told Bloomberg's Tracy Alloway at the Qatar Economic Forum this week. "Some of them are sending mining equipment overseas."
Whether the change in mining power is temporary or structural, the pace of Bitcoin mining won't budge.
Thanks to the underlying structure of the Bitcoin protocol, the mathematical difficulty of the process gets readjusted every 2,016 blocks (which takes approximately two weeks), to ensure that the average time between the mining of each new Bitcoin block stays fixed at around 10 minutes. This means that when more power is added, the difficulty escalates, and when rigs are pulled offline, it drops. As a result, the difficulty has fallen over 20% since the end of May and will likely dip further when the next adjustment is made around the end of June.
There's a very real chance that many of the shuttered mines are never redeployed. Some use older technology that's not as efficient as newer models, while many operators will struggle to find locations overseas able to offer the cheap electricity available in parts of China.
But more mines are still destined to come online because there are enough people who believe in Bitcoin, and what they see as an inevitable price rise, to make the financial calculations of owning mines seem worthwhile.
Colorado-based Riot Blockchain Inc., for example, has ponied up more than $145 million this year to lock in delivery of new Bitmain equipment that will be deployed in coming months. These machines will almost double Riot's computing, measured as a hashrate. But rather than increase total Bitcoin supply, the company will merely shift the global balance of mining power a little in its favor.
There's a comparison to be made with nation-states vying for international supremacy: It's not the amount of munitions available that matters, but the relative size of their military war chests that gives either side an edge. A de-escalation can be undertaken without anyone losing much ground.
Rather than selling shovels in a gold rush, what Bitmain is really doing is more like supplying weapons in an arms race. A halt in selling rigs won't stop Bitcoin being mined nor boost prices, but it may help cool competition for a while.
To contact the editor responsible for this story:
Patrick McDowell at [email protected]