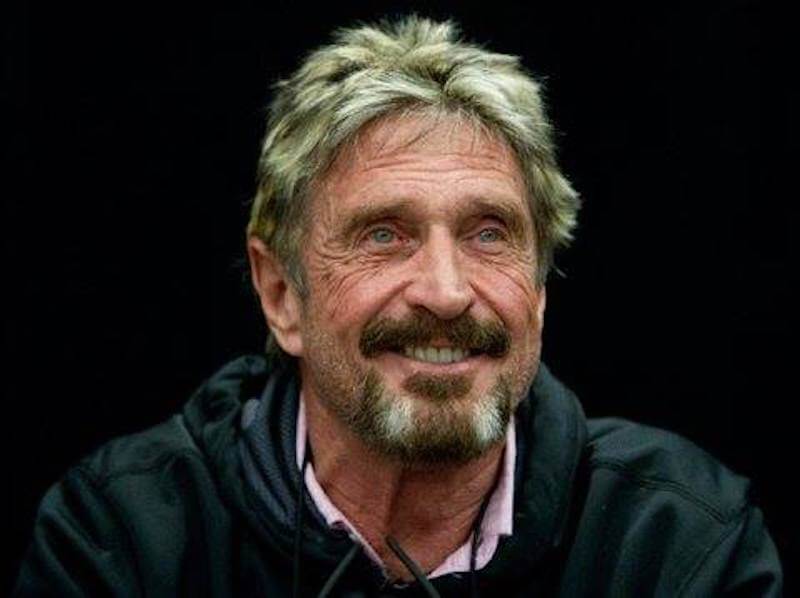 John McAfee, antivirus software magnate, cryptocurrency ambassador and self-professed "iconoclast", has been found dead in his prison cell in Barcelona, Spain, according to reports.
The founder of McAfee's anti-virus program reportedly hanged himself only hours after Spain's National Court decided that he has to be extradited to the United States regarding criminal tax evasion charges.
McAfee's Chicago lawyer, Nishay Sanan, stated that "John was found dead in his jail cell". He added that McAfee could have appealed the decision, although this needed to be approved by Spain's Cabinet, which has "very unlikely".
The controversial entrepreneur was arrested in October last year at the Barcelona airport on tax evasion charges. If extradited to the US, he could have faced a maximum possible sentence of 30 years in prison.
In March of this year McAfee also faced charges for an alleged cryptocurrency 'pump and dump' scheme relating to his behaviour on Twitter during the ICO bubble in late 2017.
The 75-year-old often refuted any wrongdoing, with his wife, Janice, stating that he is dying in prison for the very same thing that Tesla CEO Elon Musk is currently doing.
The US believes I have hidden crypto. I wish I did but it has dissolved through the many hands of Team McAfee (your belief is not required), and my remaining assets are all seized. My friends evaporated through fear of association.

I have nothing.

Yet, I regret nothing.

— John McAfee (@officialmcafee) June 16, 2021
John McAfee's death comes as a shock to everyone throughout the cryptocurrency indsutry, as in spite of his controversial stance on politics, economics and the world, he earned the respect of his peers for his gung-ho attitude in doing what he believed in.
Described by himself as a staunch libertarian, McAfee reinforced his anti-establishment view with a belief in free markets and trade amongst citizens, which is in the same vein as the cypherpunk movement that spearheaded early Bitcoin development more than 11 years ago.
We will never know what we could have learned from this dubious but still very intelligent man. But don't forget, You can't uninstall McAfee.
For more news, guides and cryptocurrency analysis, click here.