Bitcoin crumbles as states intensify their assault
On Tuesday, Iranian police seized 7,000 computer miners at an illegal cryptocurrency farm. The state had banned mining of cryptocurrencies in late May as part of efforts to reduce the incidence of power blackouts blamed by officials on surging electricity demand during the hot and dry summer.
The fall below $US30,000 meant bitcoin had violated an important support level, experts speculated, even if the near-term path is unclear.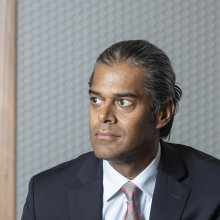 "We've had massive amounts of volatility and prices are down but that's to be expected as we are dealing with a nascent asset class," said Vimal Gor, Pendal Group's head of bond, income and defensive strategies.
"The way these things work is the price moves then we try to find a narrative to justify the price movement. There's numerous reasons why prices have fallen but there's also strong reasons to believe this is just a drawdown within a long-term bull trend."
But the fall could also prove to be a buying opportunity for many investors given the discount bitcoin is trading at to historical levels.
Advertisement
"Bitcoin's price history and volatility is evident and that will continue," said Mr Behncke. "But the way I view it is, if people thought bitcoin could go to zero before, the moves by banking regulators has taken out that zero case, I think.
"There's going to be vastly, more broad-based access and adoption coming as a result of larger companies coming on board."
The Federal Reserve's hawkish tilt has also weighed on the price of bitcoin.
"The recent drawdown is also due to the macro picture, as the Fed turned a little bit more hawkish so that has pulled back a bit of the free money narrative that's been in the market since COVID," said Mr Gor.
Despite the weakness in the last few weeks, most cryptocurrencies remain well above where they were a year ago.
Advertisement
"The market looks to be overreacting to what is essentially old news. Everyone knows what China's policy towards digital assets is, and them following through with the enforcement of those policies shouldn't come as a surprise," said Independent Reserve chief executive Adrian Przelozny.
"Long term, the future of the cryptocurrency market still looks bright. Every time there's a dip in the market we see a large increase in trading volume as investors rush in to buy the dip."
However, the erasure of bitcoin's year-to-date gains hasn't been mirrored in a number of other cryptocurrencies.
While bitcoin has fallen close to 40 per cent in the last three months, ethereum has risen close to 20 per cent; it last traded at $US1,999.97. XRP has risen 13 per cent over the same period.
"Bitcoin is obviously the poster child, the coin with the longest history and the most used coin. This is crucial when we are talking about an asset class where the network effect is dominant," said Mr Gor.
"Ethereum has also suffered over the short-term but over the medium term is performing very strongly as its adoption grows."
Investors still believe the long-term future for cryptocurrencies remains intact: "With ethereum, there's a lot of excitement and NFTs (non-fungible tokens) have taken the world by storm," said Mr Behncke.
"There's a lot of excitement there."