Canaan Soars After Predicting Max Quadrupled Revenue in Second Quarter After Bitcoin Rally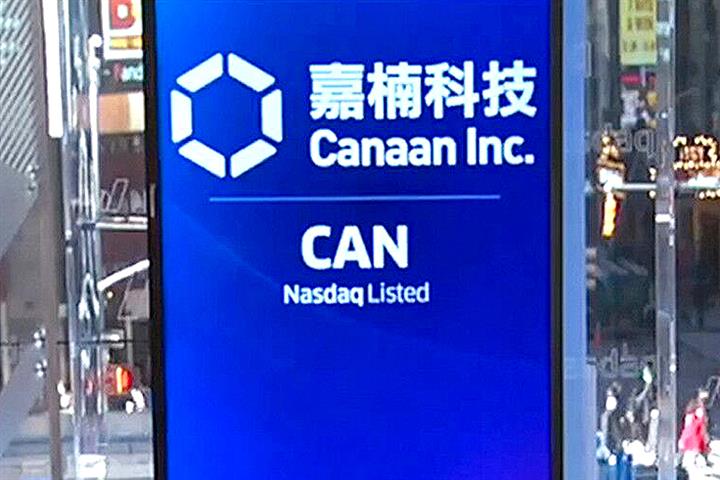 (Yicai Global) June 2 — Shares of Canaan Technology surged after the Chinese cryptocurrency mining machine maker said it is expecting to report as big as a fourfold jump in revenue this quarter after turning profitable in the first quarter due to the soaring Bitcoin prices.
Canaan's stock price [NASDAQ: CAN] closed 22.1 percent higher at USD10.26 in New York yesterday. Last March, the equity price hit an all-time high of USD39.10. Canaan listed its shares on the Nasdaq in November 2019.
Revenue could rise by two to four times to a sum between USD150 million and USD250 million in the second quarter from a quarter earlier, the Paper reported, citing Chairman Zhang Nangeng who was talking during the Beijing-based company's earnings call yesterday. In the first quarter, the figure had soared by almost five times to USD61.5 million from a year ago.
From January to March, net profit had edged up to USD200,000 after the company reported a USD6.1 million loss a year ago.
Bitcoin Rally Lured More Clients
The improving business performance was linked to the increasing popularity of one digital currency. Bitcoin prices continued to hit new highs in the first quarter, bringing more customers to Canaan, said Zhang.
The Chinese government's fresh efforts to curb the sector may not majorly affect Canaan. Most of the firm's clients are abroad, said the chief. The portion has risen quickly. Overseas revenue made up nearly four-fifths of Canaan's total in the first quarter, compared to the nearly 5 percent share of a year ago.
The business environment is becoming more hostile on the home turf. On May 21, a committee under the State Council called for a crackdown on Bitcoin mining and trading. The Chinese government banned digital currency exchanges in the country already in 2017.
China's regulatory policies may cause some domestic miners and agents to sell their machines to small and medium-sized firms overseas, which may lead to some fluctuations, but Canaan has sufficient funds, gained from presales, to offset that potential volatility, said Zhang.
Canaan's number of outstanding orders was 149,000 machines as of May 31, with over USD190 million in advance payments.
Energy Consumption
Zhang also touched on the topic of energy consumption. Cryptocurrency mining consumes a lot of power but some areas have excess, cheap electricity that can be harnessed instead of being wasted, said the chairman.
China's Inner Mongolia shut many local crypto mining firms for the very reason of using too much energy that was generated by thermal power plants which are not particularly environmentally friendly, Zhang explained.
Last month, Inner Mongolia's regional government said it will revoke telecoms and internet companies' business licenses if the firms are found to be engaged in cryptocurrency mining.
Editor: Emmi Laine, Xiao Yi