Marathon Holdings: After the Recent Crypto Crash, the Marathon Continues
Let's talk about Marathon Digital Holdings (NASDAQ:MARA). If you're a fan of cryptocurrencies, how should you feel about MARA stock? Let's examine what the crypto miner is doing off and on the price chart these days, then offer a risk-adjusted determination based on those findings.
Bitcoin (CCC:BTC-USD) of course has lost just over 50% in the past several weeks at its recent low and a sell-off with no shortage of excuses. Ethereum (CCC:ETH-USD) has been one challenge. The world's second largest crypto has been closing the valuation gap on the back of non-fungible tokens (NFTs) and what investors like Mark Cuban believe is a stronger overall blockchain utility proposition.
Untrusting regulators certainly haven't helped BTC, or for that matter MARA either. China, Turkey, India and the U.S. have all began to clamp down in various ways on cryptos. And given its size, Bitcoin has been the resident whipping boy with the most to lose.
Then there's Tesla (NASDAQ:TSLA). Recently and out of the blue, Elon Musk announced his company is pulling the plug on bitcoin payments due to the crypto's ginormous energy consumption, which flies in the face of EV logic … superficially at least.
To say the least, BTC investors have had ample opportunities to place blame for their losses and that's certainly hurt MARA stock. But MARA has hurt itself as well.
As a leading bitcoin crypto mining play and one widely known for aggressively beefing up its computing arsenal and hoarding its hashed tokens for larger future investment gains, the broader Bitcoin distress helped send MARA stock reeling by an even larger 70%. MARA has endured other issues too. Or rather, concerns equity investors enjoy grumbling about quarterly.
In the aftermath of releasing first quarter results two weeks back, shares of MARA slumped by 26% in back-to-back sessions. And that pressure was instrumental in establishing the stock's aforementioned corrective low. It appears investors were reacting to MARA's aggressive business investment and leveraging, which in the short-term at least, revealed the added cost of wider-than-expected losses.
MARA Stock Weekly Price Chart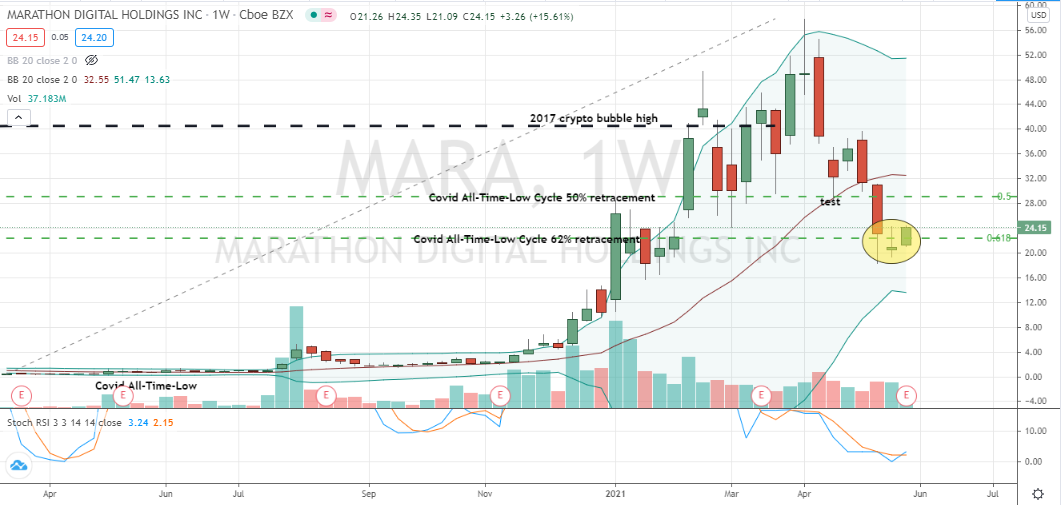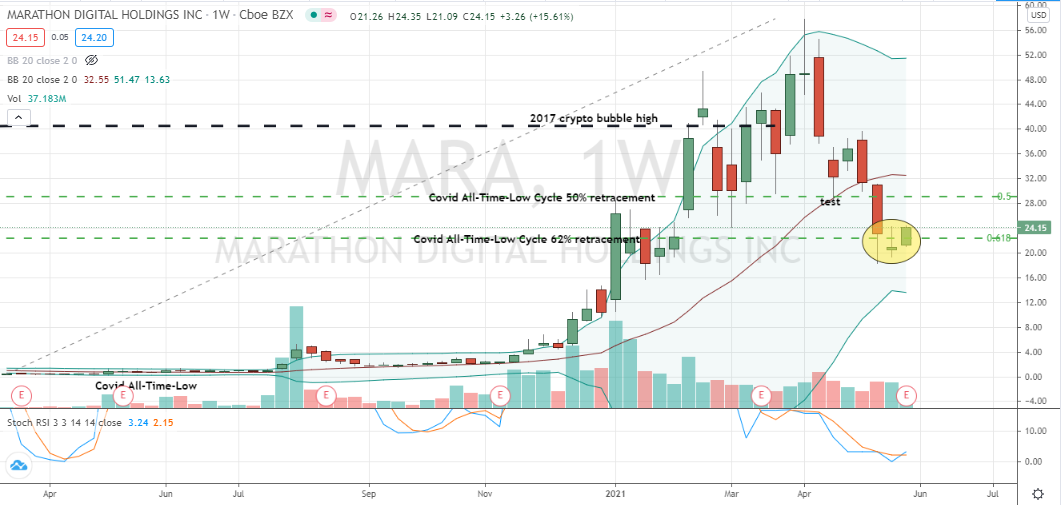 Source: Charts by TradingView
MARA's leveraged ways remains a two-way street. While shares have been clobbered since April, investors in it to win it since the beginning of 2021 are still up roughly three-fold over those hoarding BTC with comparative returns of 141% versus 32%. And today, MARA stock is setting up to widen that spread for its bullish shareholders.
During early Wednesday trading, shares of MARA narrowly confirmed last week's inside doji candlestick formed on the heels of the stock's earnings-driven low. With the price action centered on the 62% retracement level and stochastics just now signaling a bullish crossover in oversold territory, the price chart is offering a nice spot to pick up a growth story at levels of obvious technical value.
At the end of the day, MARA remains inexorably linked to BTC. And if a bumpy road of late becomes the end of the road for Bitcoin's still massive largess, MARA shareholders are likely to be in even larger trouble.
Bottom-line, I'm personally optimistic Bitcoin isn't finished as an important piece of the cryptocurrency market, and today's doom and gloom will fade. As for Marathon investors, given the opportunity to hedge and exploit both the best and worst of days with a well-structured options position, an August $25/$35 collar looks like a great starting point towards that end.
On the date of publication, Chris Tyler holds (either directly or indirectly) positions in Grayscale Bitcoin (GBTC), Grayscale Ethereum Trust (ETHE), as well as Marathon Digital Holdings (MARA) and its derivatives. The opinions expressed in this article are those of the writer, subject to the InvestorPlace.com Publishing Guidelines.
Chris Tyler is a former floor-based, derivatives market maker on the American and Pacific exchanges. For additional market insights and related musings, follow Chris on Twitter @Options_CAT and StockTwits.