Bitcoin has just hit a fresh three-year high, heading even closer to its all-time peak set nearly three years ago.
The cryptocurrency has crossed the $19,000 mark for the first time since December 2017, up 3% today.
This extends its recent surge, which has seen Bitcoin double since mid-July. It's now closing in on the record high of just below $20,000.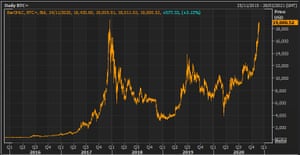 Various factors have been cited for Bitcoin's strong gains. One is that the crypto industry is now more mature, and seen as a credible asset for institutional investors.
Another is the digital currencies such as Bitcoin provide a hedge again inflation — at a time when governments are running huge stimulus packages to pay for the cost of the Covid-19 pandemic.
As Craig Erlam of OANDA writes:
Bitcoin's ascent has been incredible over the last couple of months and it's showing little sign of slowing. It's see a slight pause as it closes in on a new record high and should it achieve that, who knows what will come next.

Accurately predicting an end of year price for bitcoin is pointless, it could just as easily be $50,000 as $15,000. We've seen what this can do before and the difference now, compared to last time it was at these levels, is that it only feels like the beginning. The hype isn't yet what is was, a break to new highs could bring that and we know what that means. Buckle up, it's going to be quite the ride.
Back in Europe, German business morale has fallen… fuelling concerns that its economy could shrink this quarter.
The IFO institute has reported that its Business Climate Index has dropped this month, to 90.7 points from 92.5 points in October.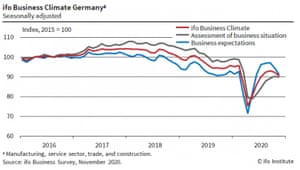 IFO explains that the second wave of Covid-19 has "interrupted Germany's economic recovery", making companies more uncertain and pessimistic about the future.
Services sector firms were worst hit, with IFO reporting that "the indicators for hotels and hospitality absolutely nosedived". Manufacturing confidence rose, but in trade, the business climate worsened.
Ifo economist Klaus Wohlrabe has told Reuters that the survey suggests that the economy is likely to shrink in the final quarter.
Markets also got a lift last night from the news that Janet Yellen is lined up to become America's next Treasury secretary.
Yellen, the former Federal Reserve chair, is reportedly Joe Biden's pick to lead the finance ministry — at a time when unemployment is painfully high, and the Covid-19 pandemic is raging.
Yellen, who Donald Trump refused to reappoint for a second term, is known to support fresh stimulus measures to help the US economy.
In July, she said Congress should provide "substantial support" to state and local governments.
In October, she added her voice to calls for a new stimulus package — as Democrats and Republicans remained deadlocked over a deal:
While the pandemic is still seriously affecting the economy, we need to continue extraordinary fiscal support."
Yellen's appointment to succeed Steven Mnuchin and become the first woman to run the Treasury (subject to Senate approval) could indicate Biden is aiming to push through a big spending package.
Investors are also optimistic that relations between the Treasury and the Fed could become less fractious — starting by reversing Mnuchin's controversial decision to stop some of the Fed's crisis lending facilities next month.
Jim Reid of Deutsche Bank explains.
One headline that seemed to help US equity prices [last night] was news that President-elect Biden is planning to nominate former Fed Chair Janet Yellen to serve as his Treasury Secretary. The S&P rose +0.45% in the c.15 minutes after the story hit later in the session.

She had been viewed as one of the front runners for the position and is likely to be welcomed by both wings of the Democratic party. She is also likely to try to closely align fiscal and monetary policy, which could mean quickly reversing the decision of current Treasury Secretary Mnuchin to shutter the Fed facilities.
John Hardy of Saxo Bank told clients:
We expect her to be in favour for more easing, which should help the Fed's agenda. As emergency spending rises, we can expect Treasury yields to move higher as well as reflation trades to pick up….

Janet Yellen specialized as labor economist and is thought to be highly concerned with inequality and climate change, while not a particularly controversial pick for Wall Street banks.
Jason Furman, former head of Barack Obama's council of economic advisers, has backed the choice:
Cruise operator Carnival is also rallying this morning, up 10% — just behind TUI (now up 11%) on the FTSE 250 risers board.
SSP, which runs cafes and takeaways at airports and railway stations, has gained 8%, while easyJet has gained 6%.
The news that the UK government is offering tests as a way to cut quarantine periods could give the travel sector a boost over the Christmas period, says Fiona Cincotta of Gain Capital.
She adds that "improving clarity over the political situation in the US" is also supporting stocks today.
A vaccine rollout can't come too soon for French companies.
French business confidence has hit a five-month low this month, as the country's new lockdown hit the service sector.
Statistics body INSEE says its business climate gauge fell to its lowest level since June this month, dropping from 92 to 79.
Companies worst hit by the lockdown, such as accommodation and food services firms, specialized retailers and car repairers, were most gloomy, INSEE says:
According to the business managers surveyed between 28 October and 19 November, the general business outlook has darkened considerably compared to the previous month.

This wave of pessimism has concerned in particular, in the context of the second lockdown, retail trade and services, but also manufacturing.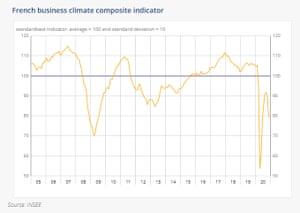 European markets are also strengthening in early trading, with Germany's DAX gaining 0.85% and France's CAC up 1%.
Energy stocks, industrials, and financial companies are among the risers on the Europe-wide Stoxx 600, as investors look for signs that the current lockdowns may be eased.
French president Emmanuel Macron is due to give a speech tonight which could outline how the current restrictions, imposed at the end of October, will be slowly relaxed. It could also outline plans for the Christmas holidays.
France is expected to start easing Covid-19 lockdown rules in coming weeks, carrying out the process in three stages so as to avoid a new flareup in the pandemic, according to senior officials.

"Emmanuel Macron will give prospects over several weeks, especially on how we adjust our strategy. What is at stake is adapting lockdown rules as the health situation improves while avoiding a new flare-up in the epidemic," government spokesman Gabriel Attal told the French weekly, Le Journal Du Dimanche.
Stocks in London have opened higher, with the FTSE 100 index up 55 points or 0.87% to 6389 in early trading.
Travel stocks, energy companies and hospitality firms are leading the charge, as investors 'rotate' into hard-hit sectors who should do better when vaccine rollouts allow economies to reopen.
The top risers include jet engine maker/servicer Rolls-Royce (+6.3%), airline group IAG (+4.5%), and oil giant BP (+3.6%). Hotel group Intercontinental (+3.2%) are also gaining.
This takes the FTSE 100 towards the five-month high seen last week.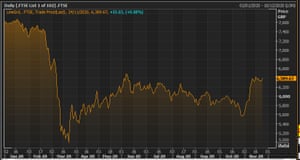 On the smaller FTSE 250 index, holiday firm TUI are up almost 10%.
Overnight, the UK government has said it will introduce a new 'test to release' regime. It will will cut the two-week quarantine period for international arrivals to England to as little as five days next month, with travellers allowed to leave self-isolation after a negative Covid-19 test.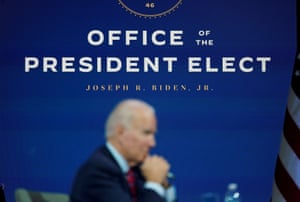 Good morning, and welcome to our rolling coverage of the world economy, the financial markets, the eurozone and business.
Global markets are gaining ground this morning on relief that Joe Biden can finally begin the formal transition from Donald Trump's administration.
Nearly three weeks after election day, America's General Services Administration has concluded that president-elect Biden is the apparent winner.
GSA chief Emily Murphy wrote in a letter to Biden on Monday that she "came to my decision independently, based on the law and available facts" Usually this is a formality, but the GSA has been delaying its certification while Trump's legal challenges played out.
The move means that Biden's team can, at last, obtain millions of dollars in transition resources, access government data and make contact with federal agencies.
It should help the Biden team to prepare for the challenges ahead, particularly the Covid-19 pandemic where cases and deaths are rising alarmingly across the country.
News of the GSA's decision has lifted markets in the Asia-Pacific region, sending Japan's Nikkei shooting up 2.5% to close at its highest level since May 1991.
Australia's S&P/ASX 200 jumped by 1.2%, and South Korea's Kospi 200 gained 0.5%.
Stephen Innes of Axi says the threat of the 'power vacuum' in Washington is fading, following the GSA's move.
Meanwhile, several Republicans are breaking ranks with President Trump and acknowledging Biden as the election winner. Uncertainty about the election outcome in the context of lawsuits alleging voter fraud in some key states wasn't materially holding back risk sentiment.

Still, the GSA's announcement is vol-suppressing at the margin. And that is having a positive effect across markets as the power vacuum in Washington looks to be sucking less life out of the markets.
European markets are set for solid gains today too:
Yohannes Abraham, executive director of the Biden transition, says the GSA's move is:
"is a needed step to begin tackling the challenges facing our nation, including getting the pandemic under control and our economy back on track".

In the days ahead, transition officials will begin meeting with federal officials to discuss the pandemic response, have a full accounting of our national security interests, and gain complete understanding of the Trump administration's efforts to hollow out government agencies."
President Trump said on Twitter he had directed his team to cooperate on the transition. However, he's yet to drop his legal action claiming – without evidence – that the election was rigged, despite a series of courtroom defeats.
The move came as to CEOs piled pressure on the GSA to start the transition process. More than 160 civic and business leaders, including David Solomon of Goldman Sachs and Larry Fink of BlackRock, signed a letter calling for a proper transition to begin.
Every day that an orderly presidential transition process is delayed, our democracy grows weaker in the eyes of our own citizens and the nation's stature on the global stage is diminished.
Investors were also encouraged by Monday's news that the AstraZeneca/Oxford vaccine can be up to 90% effective, boosting hopes of ending the pandemic.
The agenda
7.45am GMT: French business confidence report for November
9am GMT: IFO survey of German business climate in November
2pm GMT: US house price index for September
3pm GMT: US Consumer Confidence survey for November